Are soft leather wallets available in different colors and styles?
Hey there! Let's talk about something you may use everyday – wallets! Not just any old wallets though – we're going on an adventure to explore soft leather wallets. These aren't your dad's boring old brown Bi-Folds. Leather wallets nowadays come in all sorts of cool colors and designs that can show off your personal style.
How Wallets Have Evolved from the Old Days
Believe it or not, wallets weren't always fashion accessories. Back in the olden days, they were just practical pouches men carried to hold coins and cash. They were about as stylish as brown paper bags! Can you imagine if that's all we had today?
Over time as society and technology changed, wallets evolved too. More compartment and folds were added to fit cards, IDs, receipts, etc. And as fashion became more important, wallets started being designed not just for function, but also for flair.
Nowadays there's tons of wallet styles, colors and designs to choose from. When you pick one out, it shows a little bit about who you are. Kind of like choosing a cool phone case or backpack for school.
A Rainbow of Leather Wallet Colors
The classic leather wallet color is brown. Some folks like to play it safe and traditional with the classic tan or black. But nowadays you can find wallets in almost every color you can imagine! There's bright reds, ocean blues, grass greens…you name it.
Finding a color that matches your style is fun. Do you tend to wear dark muted colors like gray and black? Then a sleek black wallet might be perfect for you. Are you into preppy brights? A red or pink wallet could be ideal. And if you don't want to commit to just one color, some wallets come in fun combinations like black and white printed leather.
Matching your wallet to your clothes or phone case is a great way to pull a whole look together. It shows you've got style from head to toe!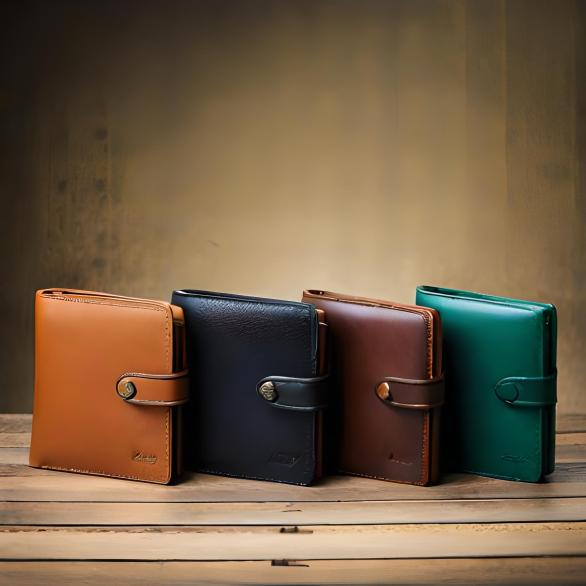 Different Wallet Styles for Different Folks
Just like wallets come in different colors, they also come in different shapes and styles. Here are a few of the most popular kinds you'll see:
Classic Bifold – This thin two-fold wallet is the OG. It holds the essentials without too much bulk. Perfect for the minimalist!
Trifold – With more folds and compartments, trifolds can hold a ton of stuff! Great if you carry a lot of cards and cash.
Zip-Around – These futuristic wallets zip shut to keep everything securely inside. The zipper gives it a cool tech-y vibe.
Card Case – Basically a tiny version that just holds a few cards + cash. Super slim and lightweight for carrying in your front pocket.
There are also cool variations out there like metal chain wallets, engraved wallets, transparent plastic wallets, and more! Part of the fun is finding the style that fits your needs.
Handcrafted Quality
While wallets today have trendy new designs and features, many are still made using classic leathercraft techniques that have been passed down through generations.
Expert leather artisans carefully cut, dye, and stitch together each wallet by hand. This gives them a unique look and feel you can't get from mass manufacturing. It's quality and durability you can truly feel.
Some of the special touches you might notice are things like:
Burnished Edges – The edges are sanded and polished for a smooth finish
Saddle Stitching – Where the pieces are stitched together using reinforced stitching running along the spine
Engraved Patterns – Decorative designs etched directly into the leather
When you can see and feel the small details, you know you're getting something made with expert craftsmanship. Just like your grandpa's old baseball mitt or saddle, a leather wallet just gets better with age as it breaks in.
Mixing Local Style with Global Trends
Another cool thing about modern leather wallets is the blend of local heritage with global trends. Skilled artisans will incorporate designs elements from their culture into the wallets.
For example, a leatherworker in Mexico might tool patterns inspired by traditional tribal art into the leather. Or a workshop in Italy might use small symbols that reflect classic Italian fashion. This gives each wallet its own unique sense of place.
At the same time, these local workshops are aware of popular styles and features found around the world. By combining their culture with global trends they create wallets that appeal to a wide audience. A wallet handcrafted in Indonesia with custom batik designs might include a modern magnetic money clip. Or a handmade cowboy wallet from Texas could have a stylish distressed finish.
This fusion of old and new, local and global is what makes leather wallets today so interesting!
The Future of Wallets
So what does the future hold for wallets? Well, as concerns grow over sustainability and the environment, you'll probably see more eco-friendly materials and production methods become common. Expect things like sourcing leather from ethical farms, water-based dyes, and compostable packaging.
You can also expect more technology to be integrated into wallets. Some already have cool features like RFID protection to block digital pickpockets! In the future, maybe they'll contain GPS tracking, language translation tools, and who knows what else!
But no matter how many changes come, I think wallets will always be an accessory people love and take pride in. After all, your wallet says a lot about who you are. And pulling out a super cool leather wallet gives you a little rush every time.
The Evolution Continues…
So there you have it – a peek into the fascinating world of leather wallets! From the old days as plain pouches to modern fashion accessories, wallets have made quite a journey. With so many styles, designs, colors and features to choose from, you can really express your personal taste.
Hopefully you now feel inspired to find that perfect leather wallet to add a touch of class and personality to your look. Whether you go classic and simple or funky and bold, keep in mind that your wallet tells a story about you. So make sure it's a story you love!
Next Up
Can a soft leather wallet withstand daily wear and tear?