Dudes, Coin Purses Aren't Just for Grandmas!
You guys! Today we're going to talk about a super interesting fashion item that's making a major comeback – the coin purse! Now I know what you're thinking – coin purses are lame little bags that old ladies use, right? Well, think again dudes. Coin purses can actually be a cool and stylish accessory for modern men!
In this essay, I'll convince you that coin purses aren't just practical, they can also add serious swag to your look. So open your mind guys – coin purses are back in a big way!
Coin Purses – Not Just for Spare Change
Let's start with what a coin purse actually is. It's a small pouch, usually made of leather or fabric, that's meant for holding coins, keys, and other little essentials you carry around. They used to be more popular when people carried cash and loose change. But coin purses today have evolved into a must-have accessory with a ton of uses!
You can stash AirPods, charging cables, lip balm, concert tickets – anything small you need quick access to. A coin purse keeps all those loose items organized in one secure place.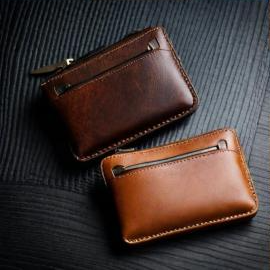 Fashion Is Changing, Dudes!
Here's the deal guys – fashion is breaking down old gender rules. What was once seen as feminine is now totally cool for men too. It's not about clothes being for girls or guys anymore. It's about self-expression!
With celebrities like Harry Styles wearing pearls and nail polish, we're seeing a rise in gender-fluid fashion. More men are carrying purses, wearing skirts, and rocking whatever expresses their personal style. So don't let outdated gender stereotypes stop you from embracing a practical accessory like a coin purse! It's all about confidently being yourself.
Dare to Break the Rules!
Let's be real – it takes serious swagger to go against the grain. But being bold and breaking fashion "rules" is how new trends catch on!
If you secretly dig the idea of carrying a coin purse, don't let fear of being judged hold you back. Rise above by being unapologetically YOU. When you confidently sport a coin purse as a stylish man, you inspire others to push boundaries too. Be the catalyst for change!
How to Make a Coin Purse Work for You
Okay, so you're ready to give coin purses a shot. Making this unconventional accessory work starts with choosing the right pouch for your personal flair.
If you lean preppy, go for one made from leather or canvas, in tan, navy, or black. For an edgier vibe, pick a nylon one with bold prints or graphics. Make sure it's practical too – big enough to hold your daily essentials, but small enough to avoid bulk. You want quick access to your stuff without exaggerated bulges.
Pro tip: attach a key ring so your keys don't get lost in a jumble of mints and headphone adapters. Stay organized fellas!
Elevate Your Outfits with a Coin Purse
Now comes the styling – this is crucial guys! The coin purse should complement your outfit, not clash. With casual looks, let the coin purse be a statement. For example, a bright red pouch would pop against a white t-shirt and black jeans.
With dressier fits, downplay the coin purse as a polished accent. A black leather version could add a lux finish to a button-down and slacks. See what I mean? Match your coin purse to the same color family or vibes as the rest of your look. Elevate your style game!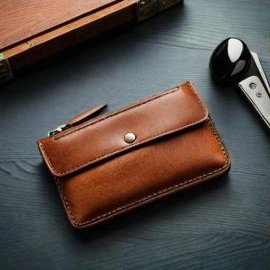 Ditch the Bulky Pockets!
Besides looking swanky, coin purses have big functional benefits over jamming everything into your pockets. No more phone-shaped bulges, rattling keys, or having to dig through candy wrapper debris to find a quarter! A coin purse neatly organizes your goods.
It also prevents scratched phone screens from mixing with keys and spare change. No loose mints getting crumbs in the charging port! Hate when that happens. Plus, a coin purse eliminates uneven sagging from overstuffed pockets. No more awkward bulges and gaps in your silhouettes dudes!
Coin Purses – A Global Trend
Fashion trends spread fast in our social media age. So as more stylish men adopt coin purses, the trend will catch on globally too!
Your daring coin purse selfies could inspire guys worldwide. Before you know it, coin purses for men could be rampant from Los Angeles to Tokyo. In some cultures, coin purses never went out of fashion for dudes. But you can ignite a resurgence in places where the trend faded away. Be an influencer!
Wrap-Up: Coin Purses are Dope!
Let's recap fellas:
Coin purses keep your essentials organized in a cool way
Men can absolutely rock them as a bold fashion statement
Choose one that complements your personal flair
Match it to the color palette and vibes of your outfit
Ditch the annoying bulky pockets!
Inspire others by boldly breaking outdated gender rules
I hope I've opened your mind to the endless potential of men's coin purses! They're practical, stylish and give you fresh ways to express yourself. It's all about rocking them with high confidence and making this unconventional accessory your own. You got this guys. Now go grab a coin purse and show off your rad personal style!
Next Up
How do you wear a man's purse?
What material is used in coin purses?