How to match a women's brown leather wallet with different outfits?
Introduction:
Brown leather wallets are timeless for women's fashion! Their sophistication works with so many outfits. But nailing the perfect match requires style skills and pairing know-how. In this paper, we'll break down how to style women's brown leather wallets for any outfit switch. Get ready to become a matching pro!
Matching Brown Leather Wallets 101:
A brown leather wallet can make your whole outfit pop when matched right! Consider the event, colors, and vibe you want to nail the combo.
For formal stuff like work, choose a sleek, polished wallet to exude professionalism with your business fits.
For casual hangouts, pick a relaxed wallet like distressed leather to add rustic vibes to your outfit.
Brown is neutral but make sure it coordinates with your color scheme.
With all black, brown adds eye-catching contrast while staying classy.
With earth tones like olive or tan, brown wallets complement the natural feel.
Colors opposite on the color wheel, like teal and brown, make visual interest!
Consider belts, shoes, and other accessory colors too for cohesion.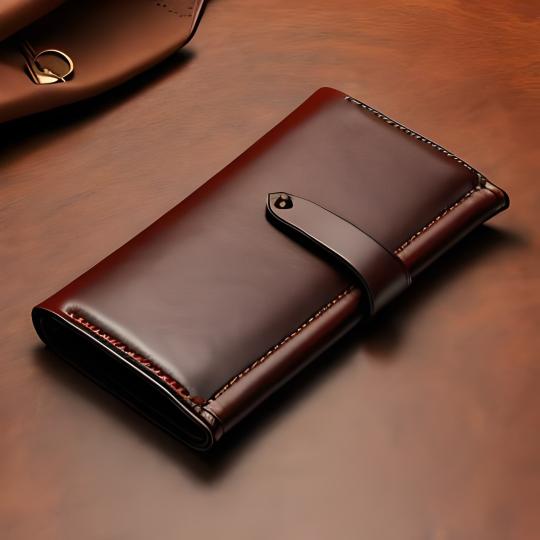 Matching Leather Wallets and Outfits:
Let's get specific with outfits and perfect brown leather wallet matches!
Casual chic – A medium brown wallet with cool stitching adds laidback elegance to a white top and jeans for brunch.
Boho vibes – Fringe or tassels complement flowy dresses, patterned skirts, and embroidered tops. Super cute boho!
Formal sophistication – A structured dark brown wallet with tailored pants, button-up, and blazer exudes polish.
Even More Matching Tips:
Class up a simple T-shirt and jeans with a brown leather wallet! Instantly more put together.
With florals or bright patterns, let your brown wallet be the neutral element.
Going for sporty athletic wear? A brown wallet adds a dash of sophistication.
With pastels or light colors, rich brown provides bold contrast.
If rocking lots of accessories and jewelry, keep your brown wallet sleek.
Vintage-inspired outfits gain a retro flair with a 70s-style brown wallet. Groovy!
Conclusion:
Matching a women's brown leather wallet is an art but easy to master! Consider occasion, color combos, contrasts, and details. A well-paired brown wallet elevates your style anywhere. Experiment with different looks to find your perfect matches. Show off your fashion skills by styling cute brown wallets with all your outfits!
Next Up
Are there any specific features to look for when buying a brown leather wallet?
What are the latest fashion trends in women's brown leather wallets?