What are common design innovations in minimalist wallets?
Wallets? Boring, Right? Not Anymore!
What pops into your head when you hear the word "wallet"? A basic leather fold-up thing your dad carries around? Yawn! Well get ready, because wallets have gone through a major upgrade recently and now come in tons of cool new styles!
Gone are the days of chunky, overstuffed wallets. Now it's all about slim, sleek designs that make it effortless to carry just the essentials. These new wallets are called "minimalist wallets" and they're becoming super popular, especially among people who want to simplify what they lug around each day. Let's check out some of the awesome innovations in minimalist wallet design:
Smaller is Better
Minimalist wallets keep things trimmed down to just the necessities, like IDs, cards, and cash. By focusing only on the absolute must-haves, designers can create much more compact wallets that easily slip into a pocket or bag without any bulk. The magic is in the details, like incorporating handy slots, pockets, and folds so you can easily access your stuff in a flash. Who wants to fumble around in an oversized wallet when you can grab what you need from a slim, lightweight one? Less really is more when it comes to minimalist wallet design!
New Materials – Way Beyond Leather
Of course classic leather still looks sleek, but now there are tons of innovative materials to choose from too. Brands use space-age fabrics with cool technology features like RFID-blocking to stop digital pickpockets. Other options include carbon fiber, aluminum, and even recycled plastics and materials – bonus points for wallets that reduce waste! The variety of textures and finishes gives you plenty of stylish options to mix up your everyday carry.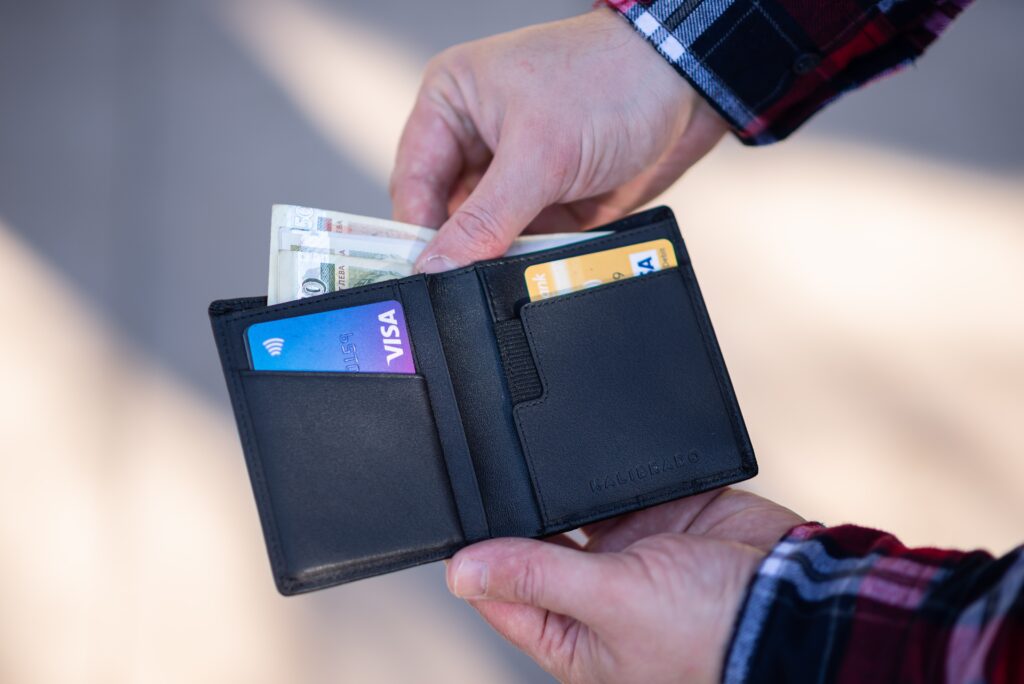 Functional Meets Cutting-Edge
Minimalist wallets don't just focus on looking sleek. They also integrate clever design features that make your life easier. RFID blocking helps keep your private credit card info safe from high-tech thieves. Quick access slots let you easily pull out your go-to card in a flash. Some even have a handy ejection lever to instantly pop up your most used card. Plus they have a slim profile, so no more George Costanza wallet explosion in your back pocket!
Shape Shifters
Tired of the same old rectangular wallet? Minimalist designers have started exploring unique shapes and silhouettes that are more functional and way cooler to show off. Triangle or trapezoid wallets, two-tone designs, modular multi-part wallets – there are so many innovative options to upgrade your everyday carry. Origami-inspired folds and asymmetric angles add visual interest while still letting you easily store cards and cash. Ditch the basic wallet shape for one with a little more personality!
Eco-Friendly is the New Black
Sustainability is a huge priority for many brands today. Using recycled materials or vegan leathers helps reduce environmental impact. Some brands even upcycle materials like old rubber tires or fishing nets into wallets and give them new life! Beyond just the materials, making sure the wallet itself is slim, lightweight, and space-saving also contributes to a smaller eco-footprint. Minimalism and sustainability make for an awesome combo.
Fashion Meets Function
At the end of the day, wallets need to be useful while also staying on-trend. The best minimalist wallet designers fuse fashionable finishes with clever functional design. Little details like smooth closures, premium stitching, and concealed compartments merge visual flair with utility. Slim leather wallets look sleek and professional. A bold triangular shape makes a style statement. Details like micro-textured fabric or two-tone materials elevate any everyday carry. Minimalist wallets strike that perfect balance between form and function.
The Wallet World is Changing!
It's clear the days of basic leather bi-folds are long gone. Minimalist wallets have totally reimagined what a wallet could and should be. Whether it's fresh shapes and silhouettes, innovative tech features, eco-friendly materials, or clever convenience, there are so many new directions to explore. As designers continue to push boundaries, wallets will only get more functional and fashionable. One thing is for sure – the wallet world will never be boring again thanks to serious innovation and serious style!
So next time you're wallet shopping, think outside the (leather) box. Look for designs that keep things minimal, lightweight, and tech-forward. Consider trying a new unique shape or material. You just may find your new everyday carry obsession and wonder how you ever lugged around a bulky old wallet! Minimalist wallets prove that slim is anything but boring.
Next Up
How do slim wallets made in the USA balance minimalism and practicality?