What are the different types of brown leather wallets available for women?
Different Kinds of Brown Leather Wallets for Women
Brown leather wallets are a popular fashion accessory for women. The brown color looks classic and elegant. Leather lasts a long time too. There are so many types of wallets to choose from! Here is a guide to some of the most popular brown leather wallets for women:
The Classic Bifold Wallet
The bifold wallet is a wallet that folds over in the middle. It opens like a book. There are usually slots inside for holding cards, cash, and other small stuff. Many women like how simple and useful the bifold style is. These wallets are skinny enough to easily fit into a purse or backpack. The brown leather looks nice for both casual and dressy outfits. Bifold wallets have been popular for many years because of their practical design.
Sleek Zip-Around Wallets
Zip-around wallets fully zip all the way around the edges of the wallet. This helps keep everything securely inside. There are extra pockets and slots for organizing things like cards, coins, bills, ID, and even a phone. The zipper gives these wallets a modern, stylish look. Women who are active or on the go often pick the zip-around style. The brown leather adds a touch of classiness.
Cute Wristlet Wallets
Wristlet wallets have a removable strap that goes around your wrist. But the strap can also come off, letting you use it as a chic little clutch purse for going out. Wristlets have space for cash, cards, a phone, lip gloss, and other small things you need. The wrist strap makes it easy to carry your wallet secure and close. Wristlets come in trendy shades of light or dark brown. They are functional accessories with lots of fashionable designs.
Big Travel Wallets
If you travel a lot, a leather travel wallet keeps your documents organized. It has extra pockets for boarding passes, tickets, your passport, foreign money, and other travel items. The many compartments help you easily find what you need while navigating airports or exploring new places. Brown leather travel wallets look sophisticated. The full-grain leather designs are very classy for trips.
Slim Cardholder Wallets
Cardholders are slim, minimalist wallets. They hold just the essentials – like 2 to 4 cards and some cash. These are great lightweight options if you don't want to carry a big purse. They easily slide into a small clutch bag. Simple brown leather cardholders have an elegant, understated look. For girls who want to pare down and not carry a bulky wallet, cardholders are a stylish choice.
Personalized Wallets
Many women like being able to customize their wallets to match their style. Some brands can monogram your initials or stamp a special design onto the leather. Wallets with colorful stitching, unique patterns, or interchangeable straps allow you to create your own original look. A customized wallet feels special because there are no others exactly like it.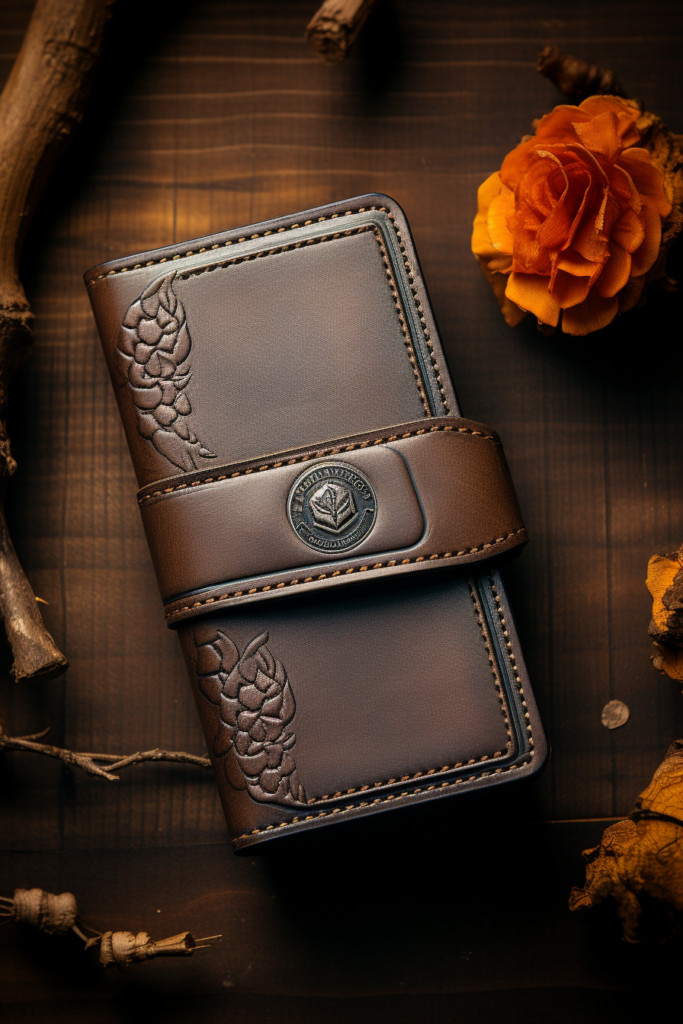 Eco-Friendly Wallets
Nowadays, buying sustainable products is important to a lot of women. There are options for brown faux leather or vegan leather wallets made from earth-friendly materials like cork and recycled plastic bottles. These help reduce waste and don't use real animal leather. The brown hues match both warm and cool-colored outfits. Eco-friendly wallets appeal to fashionable girls who care about the planet.
With so many wonderful brown leather wallets to pick from, every woman can find one perfect for her needs. From practical travel wallets to cute wristlets to custom designs, there are endless stylish options. Brown leather wallets never go out of fashion. They make great accessories to complement any girl's personal taste and style.