Can a leather money clip be personalized or engraved?
Wassup folks! Today we're talking about rad ways to customize your leather money clip and make it one-of-a-kind. Let's explore how engraving and embossing can take your clip from basic to totally unique!
Whether it's your initials, favorite symbols, or an inspiring quote, personalizing your money clip adds sentimental value. Read on to unlock new ways to flex your style and personality every time you whip out your cash!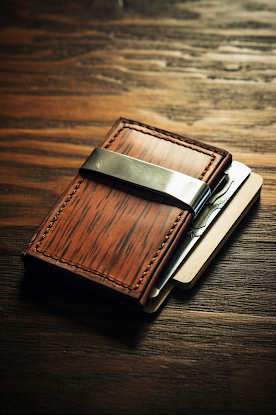 Engraving for Sentiment
Engraving designs or text onto the leather is a classic way to customize items like money clips. An engraving sets yours apart from any other. Precision tools carve intricate patterns, names, dates, or messages directly into the leather surface. Go as simple or elaborate as you want!
Engraving adds sentimental meaning to your cash carrier. Stylize it your way!
Emboss for Artistic Texture
Another technique called embossing imprints designs onto leather through applied pressure. This raises the artwork in subtle texture. Rather than removing leather, embossing pushes it up. So cool effects are possible without penetration.
Embossing lends artistic dimension – you can see and feel the special designs as you handle the clip. Extremely dope!
Making Your Mark
Here are some ideas for personalizing your money clip:
Monogram your initials for a fancy custom look
Include a meaningful date/year like your birthday
Add an inspirational word like "Dream" or your name
Pick a favorite symbol like a Yin Yang or animal
Go really personal with a fingerprint or signature
Literally, make your unique mark!
Thoughtful Gifts with Heart
Personally engraving or embossing a leather money clip makes it an extra thoughtful gift. It shows you considered the recipient's style and personality in a way a generic gift can't. This custom touch makes money clips awesome for birthdays, graduations, holidays – any special occasion!
Quality Local Craftsmanship
To get next-level custom money clips, buy from skilled local leather crafters. They usually offer engraving or embossing services for small additional fees. Support their artistry!
Working with local pros ensures your quality clip and designs are on point. Way better than diy attempts.
Pimp It Out!
Hopefully, now you see why customizing your money clip is such a baller move! Engraving or embossing gives it that special touch that mass-produced clips will never have.
It becomes a way to carry personal memories, inspiration, or style every time you break out your cash roll! So next money clip purchase, take it to the next level. Don't settle for basic – make it truly YOU. Add that secret sauce!
Then be sure to show me pics of your new sweet personalized leather money clip when you pimp it out. I can't wait to see what you come up with!
Next Up
Are leather money clips durable?
What are the benefits of a money clip wallet?