How to choose best leather men's wallet?
Hey there! Are you on the hunt for a new leather wallet? I totally get it – picking out the perfect wallet can be tricky. There's a lot to think about! You want something that looks awesome, holds all your stuff, and lasts forever. No pressure or anything.
But don't stress! I'm here to be your wallet shopping sidekick. I'll walk you through everything you need to know to find your new leather BFF (wallet best friend forever). Stick with me and you'll be flashing your cool new wallet in no time. Let's do this!
First Things First: What Do You Need?
Before we start browsing, let's think about how you'll use your wallet. Ask yourself:
How many cards do you carry daily? Just your student ID and library card? Or do you have a bunch of loyalty cards and club memberships too?
Do you keep cash in your wallet? How much? Enough for lunch money or some folded up birthday bills from Grandma?
Will you stash other things like receipts and pictures in there?
Do you need room for coins too? Quarters for the vending machine can add up!
Figuring out your wallet needs will make it easier to pick the right size and style. No one wants a gigantic clown wallet when a slim magic wallet would do the trick!
Leather Talk – The Need-to-Knows
Now let's dive into leather types so you can pick a material you love. Here's a quick intro to the most popular options:
Full Grain – This leather keeps its natural texture. It looks awesome as it ages. Think Indiana Jones satchel vibes. Rugged and cool.
Top Grain – A bit smoother than full grain. It's a good mix of durability and sleekness. Not too rough but not too shiny.
Corrected Grain – The most processed leather with a polished appearance. It's coated and buffed for extra softness and sheen. Great if you're going for a sophisticated vibe.
See the difference? Full grain has that old-school adventurer style. Top grain balances durability and looks. Corrected grain is ultra-smooth and shiny. Which sounds best for your wallet?
Craftsmanship – The Quality Check
For a wallet that goes the distance, craftsmanship is key. You'll want to inspect:
Stitching – It should be tight, sturdy and evenly spaced. Skip wallets with loose threads or uneven stitches.
Edges – Cleanly finished or burnished edges add polish. Watch for rough spots that could snag and fray over time.
Assembly – Ensure interior parts are firmly secured. No slipping or sliding around!
Good craftsmanship means your wallet will withstand years of use without falling apart on you. Because ripping open your ancient velcro wallet in front of your crush is not a good look!
Get Your Wallet Ducks in a Row
Organization is 🔑 for keeping your wallet from becoming a black hole. Look for smart storage design that makes your stuff easy to access.
You want quick grab spots for your most used cards and cash. Reserve trickier hidden pockets and slots for stuff you rarely need like gift cards or old movie tickets.
Clean segmentation and smarts storage design keeps your wallet from becoming an endless abyss! You've got places to be – no time for a scavenger hunt through clutter.
Safety First!
Identity theft can be scary business. Lucky for you, there are wallets that use cool technology to block RFID scanners from stealing your personal info!
RFID blocking means hackers can't secretly scan your cards and steal the data. It adds an extra layer of protection for your peace of mind.
If you're worried about safety, look for wallets made with aluminum lining or other RFID blocking materials. You'll pay a bit more but the security is worth it!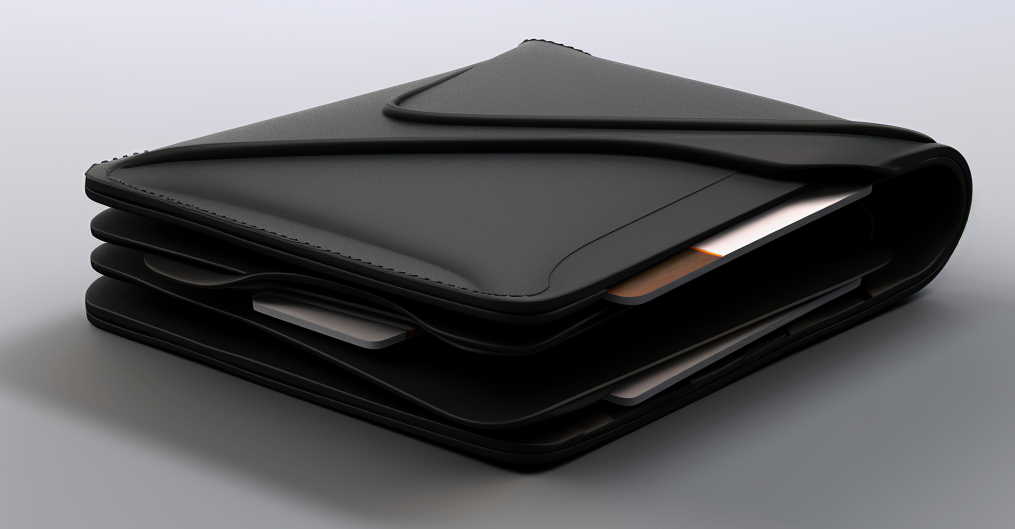 Show Off Your Style
Last but not least, your wallet is an accessory that reflects YOUR unique style!
Do you like sleek, no-frills designs in classic colors? Or does an edgy wallet with studs, bright colors or bold prints fit your vibe?
Maybe a super slim front-pocket wallet is your jam for avoiding annoying bulk. Or a hardy outdoorsy canvas wallet for your next camping trip.
Whether you're sporty, artsy, preppy or edgy, there's a wallet that speaks to YOU. Have fun showing off your personality!
The Perfect Wallet Awaits!
And there you have it – everything you need to find your wallet soulmate!
Keep your needs, leather types, craftsmanship, storage, safety, and style preferences in mind while you shop. With this handy checklist, you'll score the perfect wallet for YOU!
Let me know when you pick out your new BFF. I can't wait to see which one you choose. Happy wallet hunting! You've so got this.
Next Up
How to make men's leather trifold wallet pattern?
How to make a men's leather wallet?