What is full-grain leather?
Sup dudes and gals! Strap in for an epic inside look at full-grain leather – the most premium type you can get. We'll uncover why it rules, how it's made, and why it costs more than the fake stuff.
Get ready to become experts on this rad material that turns tough rawhides into sweet jackets, boots, and more! Let's dive in.
The Crown Jewel of Leather
In the leather world, full grain is the holy grail. This stuff blows normal leather away! It comes from the thick underside layer of animal hides. Full grain keeps all the natural grain and markings intact.
While most leather is sanded and treated, full-grain stays au natural. That's what gives it uniqueness no other leather has!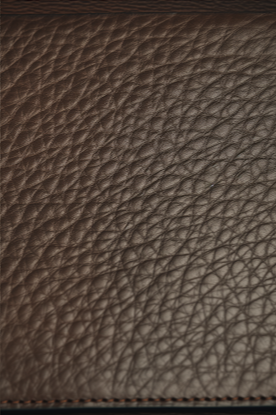 From Stinky Hides to Beautiful Leather
Transforming nasty hides into buttery full-grain leather takes serious skill. Here's how it happens:
Artisans inspect and handpick the best hides with minimal flaws. Can't start with trash!
Hides get tanned using natural compounds that bring rich color and suppleness.
Unlike other leather, full grain doesn't get sanded or coated to hide flaws. They give it character!
It takes a ton of time and labor but the result is so worth it.
The Many Uses of Full-Grain Leather
From shoes to bags to furniture, full grain elevates anything it touches with premium flavor! For shoes and accessories, it adds major sophistication and class. Jackets become heirlooms that age beautifully.
And a full-grain leather couch or chair makes a serious style statement while lasting decades. The applications are endless!
Why Full Grain Rules the Leather Game
Okay, let's get into why full grain is so unbeatable:
Shows unique hide patterns and scars
Develops a cool worn-in patina over time
Super durable against scrapes and weather
Breathable and comfortable for clothing
Oozes rich, rugged texture
No other leather checks all these boxes. Full grain is just built differently!
Comparing Leather: Full Grain Reigns Supreme
If we stack up full grain against lower-quality leather, it's easy to see why it costs more. Top-grain leather gets sanded and coated to hide imperfections. Bonded leather is made of scraps glued together. Faux leather is all plastic.
While cheaper, those can't match full grain's natural richness, longevity, and flair. You get what you pay for!
Keeping Craftsmanship Alive
Even as tech and trends change, full-grain leather stays timeless. It represents generations of artisanship. Each unique mark tells the story of its origin. And the patina it develops reflects the care it received.
Full grain is a part of history to treasure. Respect to the leather masters keeping these old-world skills alive!
Now You Know Why Full Grain Rules!
There you have it dudes and gals – the inside scoop on the cream of the leather crop. Now you can spot true full-grain quality a mile away! Understanding why full-grain rocks help you make smart purchases. This elite leather performs and endures like no other.
So unleash your new expertise by picking stylish full-grain gear built to last a lifetime! It's the ultimate material for jackets, footwear, and accessories. Just don't get overwhelmed drooling over all the premium choices now available to you!
Next Up
Which is better top grain or full-grain leather?
What are the benefits of full-grain leather?